Since the 1990s, BUSSE GmbH has been building up an efficient research team that pursues innovative development tasks in the field of technical-biological processes in environmental technology.
Close cooperation with the Federal Environment Agency, the German Federal Foundation for the Environment and universities and colleges has been established in numerous research and development projects, including:
Leibnitz Institute
for Surface Modification e.V.
Fraunhofer Institute
for Ceramic Technologies and Systems
Technical University
of Berlin
Technical University
of Dresden
West Saxon University of Applied Sciences
in Zwickau
Alfred Wegener Institute (AWI)
Bremerhaven
The following research topics are currently being worked on:
Process development for decentralized complete wastewater treatment in the highest water purity classes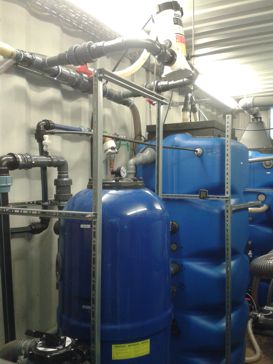 The resulting filtrate of the BusseMF membrane treatment plant is to be treated to "pure water" by means of a suitable physical process. With this stage of the process, it should be possible on the one hand to ensure every water purity class currently required by authorities worldwide for the discharge of treated wastewater from decentralized wastewater treatment plants, and on the other hand to achieve the re-use of treated wastewater as "water for human consumption". In addition, the energetic options for energy recovery (use of waste heat) are to be converted into an applicable technical solution.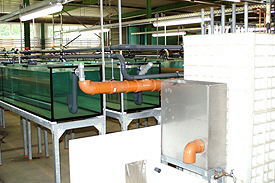 In preparation for the market launch, the concept for the digitization of a compact, modular fish farm is to be further developed, completed and integrated into the overall digital transformation project of the company. A first size in container design for decentralized operation is to go into production at the end of the project, further sizes are to follow after the end of the project.