Due to its compact and modular structure the Busse MBR system can be individually adapted to places and situations that were not fit for on-site waste water treatment in the past.
The range of applications of the system covers solutions for theatre ships, charter yachts, house boats, historic buildings such as castles, mobile container plants and even the use of the MBR technology for effluent free manufacture in fish farming.
In order to adapt the plant precisely to the individual site, different sizes of tanks and different tank systems can be chosen or partly manufactured individually. So the existing space can be used to their full capacity. The plants are installed in a way that allows service in any weather conditions. Thus permanent performance is assured.
Systems for historic buildings
Historic buildings often present a challenge when it comes to integrating waste water treatment systems into the existing structure. Due to its small footprint and modular structure the Busse MBR system can be easily adapted to fit into the existing structures and treats the waste water on site with the possibility of immediate re-use within the building.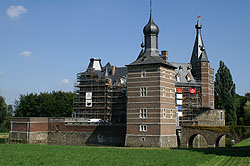 The modular structure makes the Busse MBR systems fit for installation in a container as a mobile solution for waste water recycling at any place in the world. Turn-key MBR system can be delivered in small sizes from 4 to 100 inhabitants. A water holding tank next to the building is used as a pre-cleaning chamber.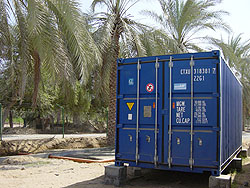 MBR module for underground installation
The system consists of an MBR module which is made out of polyethylene and has to be installed partly below ground. It is easily accessible. A pumping station with aerated coarse matter separator is part of the system. This pumping unit has to be installed in an existing waste water holding tank.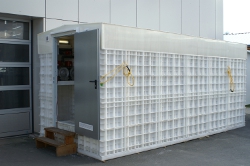 Treatment systems for 50 to 500 people equivalents
With the patented Busse technology it is possible to expand system to sizes for up to 500 people equivalents. For these applications the buffering and pre-treatment of the domestic waste water takes palace in external septic tanks in the ground which will be equipped with a pumping unit with aerated coarse matter separator to serve as a as a pre-cleaning step.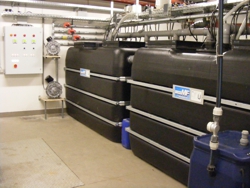 System for fish farming without waste water
As the first system with MBR technology worldwide the Busse system shows, that intensive fish farming is possible without any ecological damage. Based on the technology of the system for domestic waste water, Busse has combined several technologies to prevent waste water from reaching the environment. The MBR technology also assures a high quality of the water in the breeding tanks and improved standards of living for the fish.